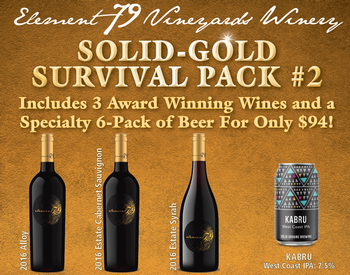 Solid Gold Survival Pack #2
Premium Wine! Premium Beer! Amazing Price!
In these trying times we all could use a little something to look forward too. We have paired three of our most popular wines with Solid Ground Brewing's very popular Helles Lager "Rampart". We bring you this limited time offer to brighten your day.
Survival Pack #2 Is for those who love bigger bodied wines and beer. It Includes:

1 bottle - 2016 Estate Cabernet Sauvignon
1 bottle - 2016 Alloy
1 bottle - 2016 Estate Syrah
Plus a six pack of one of Les' favorite Solid Ground brews - KABRU West Coast IPA

$10 flat rate shipping use code SURVIVALSHIPPING