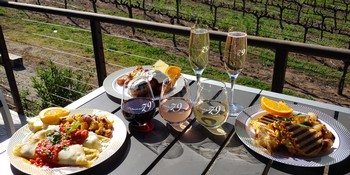 Brunch in the Vines
Sunday, October 10th

Chef Jeneca Kretchman has designed a scruptious menu for you to enjoy while sipping a glass of wine to start off your Sunday Funday with us.

Tickets are $35 (club discounts apply) per person and includes 1 item of your choice from the menu below and a choice of a glass of our on tap Sparkling Rose, 2020 Abby's Rose, 2020 Inside Out and 2019 Rare Earth.
Menu:
Short Rib Hash
Braised Shortribs, 2 Baked Eggs, Melted Leeks, Tri Color Peppers, Tarragon Aioli, Cajun Potatoes
Farmer's Market Crepe (vegetarian)
HandMade Crepe, Scallion Cream Cheese, Fire Roasted Vegetables, Red Pepper Coulis, Roasted Potatoes
Lavender Honey French Toast
Thick Sliced Brioche French Toast with Bruleed Honey, Berry Compote, Meyer Lemon Chantilly Cream; with Country Roasted Potatoes
Breakfast Panini
Whipped Eggs, Thick Cut Bacon, Sharp Cheddar Cheese on Buttery Sourdough with Chipotle Aioli and Cajun Potatoes
Frittata
Pork Chorizo, Pasilla Peppers, Caramelized Onions, Cheddar & Cotija Cheese. Served with fresh cilantro, lime, cumin crema, and spicy potatoes

Upon check out please inform us of your Brunch item selection. On the "Check Out" page, check the box for "add a gift or special instructions". This will bring up a text box for "Order Notes." Use this space to tell us your order. Chef Jeneca needs time to procure all the fresh ingredients for your meal so please place your orders by Wednesday, October 7th.

There will be two seating options for brunch 10 AM - 11:15 AM and 11:45 AM - 1:00 PM. To insure the best experience possible for our guests, each seating will be limited to 30 people. For a group larger then 6 please call the tasting room and we will do our best to accommodate your request.
Product Reviews
Howard Tank
(Apr 12, 2021 at 5:42 AM)
We had the Fritatta and Panini and both were excellent, serving along with wine for brunch were incredible. Looking forward to next one.
Allison Estep
(Apr 12, 2021 at 10:24 AM)
I had the French toast and my husband had the panini. Both were excellent. We thoroughly enjoyed our relaxing brunch on the deck with wine. We will be watching for future events!
Kathleen Badal
(Jun 14, 2021 at 3:22 PM)
My husband and I had the Panini and it was excellent! The wine tasting room is elegant and so relaxing. The frosting on the cake was a lovely, friendly chat with the owner of the winery. Such an awesome personal touch. Can't wait for future events.
Amy Domi go
(Jul 13, 2021 at 9:40 AM)
It was a group of 6 for brunch. Moms, daughters, sisters and friends. We had French Toast and Paninis! Wine was amazing, food was delicious, and service was the best we have had in a long time. Planning a return trip, and excited to experience more tastes and good company.