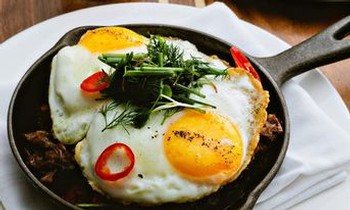 Brunch in the Vines
Chef Jeneca Kretchman has designed a scruptious menu for you to enjoy while sipping a glass of wine to start off your Sunday Funday with us.

Our first Brunch in the Vines will be Sunday, April 11th 10:00 AM - 12:30 PM. Tickets are limited (6 maximum group size).

Tickets are $22 per person and includes 1 item of your choice from the menu below and a choice of a glass of our on tap Sparkling Viognier, 2019 Chardonnay or 2019 Rare Earth.
Menu:
Short Rib Hash
Braised Shortribs, 2 Baked Eggs, Melted Leeks, Tri Color Peppers, Tarragon Aioli, Cajun Potatoes
Farmer's Market Crepe (vegetarian)
HandMade Crepe, Scallion Cream Cheese, Fire Roasted Vegetables, Red Pepper Coulis, Roasted Potatoes
Lavender Honey French Toast
Thick Sliced Brioche French Toast with Bruleed Honey, Berry Compote, Meyer Lemon Chantilly Cream; with Country Roasted Potatoes
Breakfast Panini
Whipped Eggs, Thick Cut Bacon, Sharp Cheddar Cheese on Buttery Sourdough with Chipotle Aioli and Cajun Potatoes
Frittata
Pork Chorizo, Pasilla Peppers, Caramelized Onions, Cheddar & Cotija Cheese. Served with fresh cilantro, lime, cumin crema, and spicy potatoes

Upon check out please inform us of your item selection in the "Order Notes." Orders must be placed by Wednesday, April 7th.