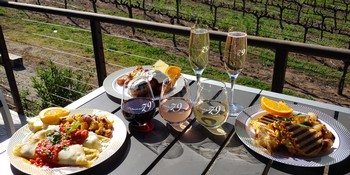 Brunch in the Vines
Deposit
With the addition of renown culinary expert Chef Brian Overhauser to the Element 79 Team, we are transitioning Brunch In The Vines to a pre-fix monthly seasonal menu that will highlight our award winning Estate wines and reflect our philosophy about keeping our experience unique and focused on the magic of wine and food.
This change will take place starting with our July Brunch In The Vines. Chef Brian is working on the seasonal menus for each month and we will update this page as soon as they are created and ready for publication.
We are very excited about this transition and we think you will be too. If you are interested in attending one of these special Sunday Fun experiences simply complete the form below and we will contact you to finalize your reservation.
Tickets - $35 per person plus tax and tip.
A $10 reservation deposit will be paid at time of reservation. The balance will be paid the day of the event.

Dates:
June 12th, 2022 - Sold Out
July 10th, 2022
August 14th, 2022
September 11th, 2022
October 9th, 2022
Two Brunch seating times:
10:00 AM
11:45 AM
To insure the best experience possible for our guests, each seating will be limited to 30 people. For a group larger then 6 please call the tasting room and we will do our best to accommodate your request.
$10 Deposit - Balance of $25 will be paid on day of event.
Product Reviews
Howard Tank
(Apr 12, 2021 at 5:42 AM)
We had the Fritatta and Panini and both were excellent, serving along with wine for brunch were incredible. Looking forward to next one.
Allison Estep
(Apr 12, 2021 at 10:24 AM)
I had the French toast and my husband had the panini. Both were excellent. We thoroughly enjoyed our relaxing brunch on the deck with wine. We will be watching for future events!
Kathleen Badal
(Jun 14, 2021 at 3:22 PM)
My husband and I had the Panini and it was excellent! The wine tasting room is elegant and so relaxing. The frosting on the cake was a lovely, friendly chat with the owner of the winery. Such an awesome personal touch. Can't wait for future events.
Amy Domi go
(Jul 13, 2021 at 9:40 AM)
It was a group of 6 for brunch. Moms, daughters, sisters and friends. We had French Toast and Paninis! Wine was amazing, food was delicious, and service was the best we have had in a long time. Planning a return trip, and excited to experience more tastes and good company.